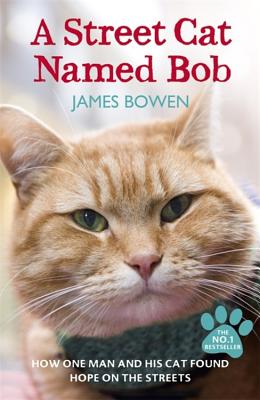 Chapter 1. There's a famous quote I read somewhere. It says we are all given second chances every day of our lives. They are there for the taking, it's just that we don't usually take them.
Ever since I moved to Singapore, I have decided not to buy books, but instead, to use its awesome public library services.
National Library in Singapore
is so good there's almost no reason to buy books, except well, this time. For Bob and his James Bowen.
I came to know about Bob the ginger tomcat about two weeks ago. I don't know what took me so long but it was when I saw a video of him and the street musician on my Facebook newsfeed that Bob caught my attention. I decided there and then I will buy his book to show my support.
I finished
A Street Cat Named Bob
in one day. It is a fast read and certainly an enjoyable one. I couldn't put it down because I had to continue reading to know how the story goes, in London, between the street cat and the penniless street musician who is on the recovery from drug addiction. Bob was in a rather bad shape when Bowen found him one day in his apartment building hallway. Bowen did not immediately take Bob in, but after a few days, he relented. It worries him, though, because he could hardly feed himself, so how is he to care for another being? He did it any way and that action changes Bowen from that moment on.
Throughout the story I can feel Bowen's love for Bob, and the trust Bob has in Bowen. That guy does his best to care for the cat. Bob follows Bowen when he busks and instantly becomes a hit with the people. It's not all rosy and nice because there will always be nasty people around (those that love giving hell to others).
This is a beautiful memoir and a wonderful testimony of true friendship. It's a straightforward narrative (but never a boring one!) of a journey towards healing and responsible living. This is an amazing story. I'm now reading its sequel,
The World According to Bob
.
It's not easy when you are working on the streets. People don't want to give you a chance. Before I had Bob, if I would try to approach people in the pubs with my guitar strap on, people would go 'no, sorry' before I'd even had a chance to say hello. p.90
---
People don't want to listen. All they see is someone they think is trying to get a free ride. They don't understand I'm working. I'm not begging. I was actually trying to make a living. Just because I wasn't wearing a suit and a tie and carrying a briefcase or a computer, just because I didn't have a payslip and a P45, it didn't mean I was freeloading.

Having Bob there gave me a chance to interact with people.

They would ask about Bob and I would get a chance to explain my situation at the same time. They would ask where he came from and then I'd be able to explain how we got together and how we were making money to pay our rent, food, electricity and gas bills. People would give me more of a fair hearing. p.91
And... my Hong Kong Bar picture of Bob has made it into the
Around the World in 80 Bobs
blog! This is so nice and unexpected. Thank you, Bob and James Bowen!