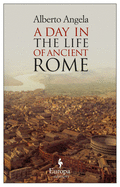 Yesterday on
Wordless Wednesday
, I shared some pictures of
Foro Roma
(or Roman Forum). Today, I'd like to invite you to go back in time to Rome in 115 CE, during the reign of the emperor Trajan, and come with me as we become a part of the ancient world of Rome on that day. Specifically, we are going to the Forum. Alberto Angela in his book
A Day in the Life of Ancient Rome
made this possible for all of us. Here's an excerpt from his wonderful book.
Andiamo a Foro Roma!
Let's go!
[...] Then suddenly, there opens up in front of us the great open space of the Roman Forum. It is an extraordinary sight.

The dominant color is a brilliant white that stands out magnificently against the deep blue of the sky. Surrounded by this immensity, we lose our bearings. We try to take in all the details of the piazza, but it's impossible because of the people pushing past us, some of them insulting us. This, then, is the Forum of Rome.

How to describe it? [...]

But there are a lot of differences. First of all, there are no domes in the Forum (like the one atop the Basilica of Saint Mark's). In their place, however, are numerous temples lining the piazza like a hedge. They look like a long line of white marble fountains.

Looking at the opposite side of the big square of the Forum, the spectacle is even more majestic.

The impression is that we are admiring a colossal petrified cascade, arranged in descending terraces. The temples, in fact, are built into the slope of the Capitoline Hill, almost as though they were trying to scale it en masse. It looks like a frozen waterfall of Iguaçu, which because of a strange play of perspectives (and meanings) has as its point of departure the two symbolic temples of Rome on top of the Capitoline: the Temple of Juno on the right and the Temple of Jove on the left.

On our left there is a chaotic coming and going of people up and down the broad staircase of a temple: the temple of Castor and Pollux. [...]

[...]

We head out into the piazza, walking on splendid stone pavement of white travertine, polished to a lucid sheen by all the foot traffic. [...] Something that not many people remember, he* says, is that for the whole period of the Republic, this is where the gladiators fought. The Colosseum didn't exist back then. [...]

While he's talking we notice that behind us, in the middle of the Forum, there are three trees: a grape vine, a fig tree, and an olive tree. They are sacred trees, he says, planted symbolically in the piazza, though some say they sprang up there spontaneously.
To be continued—tomorrow (Part 2)!
***
P/S: For more updates, LIKE me on my Facebook pages at Alice Teh and The Weekend Traveler, OR FOLLOW me on Twitter and Instagram. See you there!