My Teaser: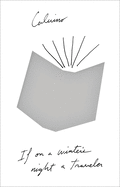 Unlike the provisions in the kitchen, here it is the living part, for immediate consumption, that tells most about you. Numerous volumes are scattered, some left open, others with makeshift bookmarks or corners of the pages folded down. Obviously you have the habit of reading several books at the same time, you choose different things to read for the different hours of the day, the various corners of your home, cramped as it is: there are books meant for the bedside table, those that find their place by the armchair, in the kitchen, in the bathroom.
This is from page 146 of the novel
If On A Winter's Night A Traveler
(Se una notte d'inverno un viaggiatore)
by Italo Calvino. I like this passage because it sort of describes my own situation.
In the first teaser of the same book in
my last week's Teaser Tuesdays
, I mentioned that the book alternates BETWEEN odd-numbered chapters in the second person and tells the reader what he, The Reader, is doing in preparation for reading the next chapter; AND even-numbered chapters being the titles of whichever book he is trying to read. It's an interesting book.
The teaser above is from Chapter 7 where The Reader is now at The Other Reader's house and examining what he sees inside her house. The Reader and The Other Reader meet while trying to find answers to the same perplexing problems they face while reading the same books.
See more
Teaser Tuesdays
here by other bloggers. This weekly bookish meme is hosted by MizB of Should Be Reading.
***
P/S: For more updates, LIKE me on my Facebook pages at Alice Teh and The Weekend Traveler, OR FOLLOW me on Twitter and Instagram. See you there!