My Teaser: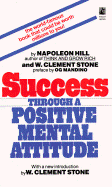 Ask for Divine Guidance. Ask for help in finding the right solution.
Engage in thinking time for the purpose of solving your problems. Remember that every adversity has the seed of an equivalent or greater benefit for those who have PMA.
State the problem. Analyze and define it.
State to yourself enthusiastically: "That's good!"
Ask yourself some specific questions, such as: (a) What's good about it? (b)How can I turn this adversity into a seed of equivalent or greater benefit; or how can I turn this liability into a greater asset?
Keep searching for answers to these questions until you find at least one answer that can work.
This is from page 82 of
Success Through A Positive Mental Attitude
by Napoleon Hill and W. Clement Stone. It is very timely and as I was reading this classic book from my personal library (a book I bought in April 2007), it gave me something to hold on to and to work on to turn the situation around.
See more
Teaser Tuesdays
here by other bloggers. This weekly bookish meme is hosted by MizB of Should Be Reading.
***
P/S: For more updates, LIKE me on my Facebook pages at Alice Teh and The Weekend Traveler, OR FOLLOW me on Twitter and Instagram. See you there!