My Teaser: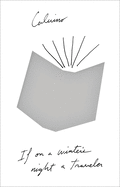 Then we started looking for the plastic bag and the can of gas, and now all we had to find was the place. It seems impossible, in a big city like Paris, but you can waste hours looking for the right place to burn up a corpse. "Isn't there a forest at Fontainebleau?" I say, starting the motor, to Bernadette, who has sat down beside me again. "Tell me the way; you know the road."
This is from page 105 of the 1979 novel
If On A Winter's Night A Traveler
by Italo Calvino. In Italian it is called
Se una notte d'inverno un viaggiatore
.
It is an interesting novel because it is about a reader trying to read a book called
If on a winter's night a traveler
. The book alternates between odd-numbered chapters in the second person and tells the reader what he is doing in preparation for reading the next chapter, and the even-numbered chapters are titles of whichever book the reader is trying to read. Interestingly the odd-numbered chapters are all single chapters and all are broken off at the most intense moments. For example, in the teaser above, it's a passage from somewhere in the middle of the chapter of
Looks down in the gathering shadow.
Another intriguing element is the Other Reader, a woman, whom the Reader meets while trying to find answers to the perplexing problems he faces while reading the books. They are both trying to find answers to the same problems. I want to see how their relationship develops.
If On A Winter's Night A Traveler
is a novel introduced to me by my friend from Rome, Italy.
See more
Teaser Tuesdays
here by other bloggers. This weekly bookish meme is hosted by MizB of Should Be Reading.
***
P/S: For more updates, LIKE me on my Facebook pages at Alice Teh and The Weekend Traveler, OR FOLLOW me on Twitter and Instagram. See you there!