My Teaser: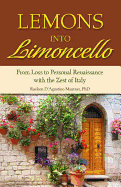 I am more focused on the importance of kindness, generosity of heart, and of not tolerating nonsense from people who want to make me feel miserable. I want to spend my precious moments surrounded by great people and experiences that I can get excited about. Life is a limited commodity and I do not take even one minute for granted.
This is from page 71 of
Lemons into Limoncello
by Raeleen D'Agostino Mautner, PhD.
See more
Teaser Tuesdays
here by other bloggers. This weekly bookish meme is hosted by MizB of Should Be Reading.
Why I'm reading Lemons into Limoncello.