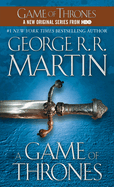 I finally finished reading
A Game of Thrones
(ISBN: 9780553573404) by George R. R. Martin. The original plan was to finish it last month when I started reading it in June, but the 831-page novel was a mammoth.
If you like the stories of lords and ladies, kingdoms fighting and ruling, this may just be your cup of tea (or coffee). It's categorized as a fantasy but in this first book, there isn't much of that element yet. There is; however, lots of plotting, tragedy and betrayal, victory and terror, not to mention quite a bit of whoring going on. I was also watching season one of the HBO series on DVD, and there were many adult scenes. Those scenes are much more dramatized or emphasized in the series than in the book. It's definitely not for kids and folks with strong religious belief. This is not to say though that those who watch them (such as myself) are morally loose people.
There are many lessons to be gleaned from this story. For example, Lord Eddard Stark could have played the game of thrones better. His decision and although it is an honorable one, has caused many people their lives. He is being too straightforward. In another example, a very powerful man lost everything (his entire clan and his untimely end) because of his love for a woman. It's not really the fault of this woman but her decision, too, is very costly.
My favorite character shifted from John Snow (in the beginning), and settled at Tyrion Lannister the Imp and Daenerys Targaryens.
I will be taking a break from reading this series, which I like but did not love and until the mood strikes again, I'm shifting my focus to all things Italian.
Related Post: Teaser Tuesdays from A Game of Thrones
This video gives a good background to the story, who's who and why they do what they did. Watch it!