My Teaser: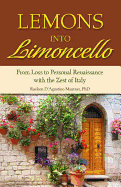 Limoncello (lemon liqueur) is made from the surprisingly sweet lemons found along the Amalfi Coast. There is no bitterness in this beverage but rather a bit of added kick, as in the kick that reminds me to get back up after defeat and make my life even better than before.
This is from page 3 of
Lemons into Limoncello
by Raeleen D'Agostino Mautner, PhD.
See more
Teaser Tuesdays
here by other bloggers. This weekly bookish meme is hosted by MizB of Should Be Reading.
Why I'm reading Lemons into Limoncello.