My Teaser: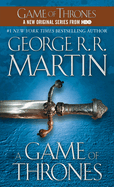 "I have a realistic grasp of my own strengths and weaknesses. My mind is my weapon. My brother has his sword, King Robert has his warhammer, and I have my mind… and a mind needs books as a sword needs a whetstone, if it is to keep its edge. That's why I read so much, Jon Snow."
This is from page 121 of
A Game of Thrones
by George R. R. Martin.
See more
Teaser Tuesdays
here
by other bloggers. This weekly bookish meme is hosted by MizB of Should Be Reading.