Lemons into Limoncello
attracted my attention and I couldn't resist the book because:
The word "limoncello" called out to me.
I love all things Italian—the language, culture, lifestyle, food, art, literature, everything.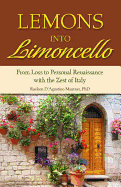 The book offers a fresh take on the topic of overcoming loss and tragedy using the traditional Italian cultural approach. There will be a time in our lives where we will experience some kind of personal devastation such as the loss of jobs or loved ones (pets included), or health challenges, or any circumstances that will make enjoying life difficult.
I love reading. So I read widely and although some books may not apply to my current lifestyle (for example, being married) or even certain circumstances (for example, losing a job—I'm very blessed I have a job that I love and enjoy), these books are very appealing to me because of the correlation with other subjects. In this case, it's written with an Italian perspective. I loved it. I think that when I do face a sad personal situation, I would be able to handle it better because I've prepped myself, or maybe simply just being able to help comfort others who are in need.
On the lighter side of things, I tasted my first heavenly and unforgettable limoncello in an authentic Italian restaurant Bali late last year. I was on vacation with my Italian travel buddy. The food was awesome and it was there and then that my love for Italian food blossomed. I also enjoyed the Italian banter between my travel buddy and the restaurant owner. At that time, my Italian was still at a very immature stage so I couldn't understand what they were saying but
ogni parola suonato come musica
(every word sounded like music).
I'm very sure I'll be enjoying this special book very much, and I'm very eager to share my thoughts with you. It's funny how things "found" you. This book found me.