Since I'll be landing in Rome and the Eternal City will be my first stop in Italy, naturally, I'd pay more attention to the region of Lazio where Rome is situated. My jottings here are based on
ITALY for the Gourmet Traveller
by Fred Plotkin. It really is an outstanding book, and so easy to read and interesting.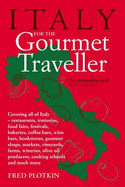 About this book:
Fred Plotkin takes us beyond the traditional tourist experience and lures us to special places, whether in big cities or out-of-the-way villages. Under his discerning eye, we learn about the food, wines, local bakeries, olive oil distilleries, cheeses, markets, restaurants, and best kept secrets of Italy's culinary world.
—
Amazon.com
(This is what I loved about the book.)
Ai Monasteri.
This is a store in Rome where you can buy spirits and other products made by monks of many orders. I'm not sure if I'd be buying anything because I'm not a shopper but it'd be interesting to check out the place and be on the lookout for the famous wine
Est! Est!! Est!!!
Pecorino.
Sheep's-milk cheese. I just learned that the lamb is foremost meat and almost every part of the animal is consumed.
Ricotta Romana.
This smooth, fresh creamy cheese is one of the simplest and most addictive in all of Italy, made of milk curds (cow or sheep), and eaten as a snack with cut fruit.
Viterbo.
A beautiful medieval city. Acqua di Nepi is the most delicious mineral water in Italy. The source is Terme dei Gracchi, which is a nice place to relax and have a tall glass of water.
Tarquinia. The magnificent Etruscan museum and necropolis. Nearby the museum, there's an appealing restaurant specializing in fish and seafood, Arcadia (price: moderate).
Castelli Romani.
Hills and lakes. There are 13 communities all about 30 km from the city (Frascati is one of them). Must check out the baked goods as there are bakeries there that make nice cookies and
buccellati di vino
(rings made with wine). Must buy hot bread fresh from the oven as they are supposedly some of the best you will ever taste.
Baking: Forno a Legna Molinari and Forno Ceralli
Dining: Enoteca Frascati (price: inexpensive to moderate). Strictly local and must save room for the mousse di ricotta. Trattoria Zarazà (price: moderately inexpensive to moderate). Very good and careful cooking of classic regional dish; vegetables are great.
Anzio.
A bustling town with interesting fish markets and beautiful villas on the hills above the port. There's also an ancient Roman theater and the British WWII cemeteries.
Nettuno.
One-hour train trip from Rome—an interesting and wistful experience. Must visit: for dining,
Trattoria da Rodo
(moderate; check out a man called Francesco) and the Sicily-Rome American Cemetery and Memorial.
Must Tries:
Carciofi alla Giudea. Flattened artichokes and golden fried. (Antipasto)
Bucatini all'Amatriciana. Typical of Amatrice, the sauce is made with pancetta or guanciale, tomatoes, onions, garlic, and peperoncino. (Primo—for dining, try Albergo-Ristorante La Conca in Amatrice, the search for this classic dish should begin and end right here.)
Pasta al Cacio e Pepe. It's a simple and delicious dish with grated Pecorino and freshly ground pepper. (Primo)
Abbachio al Forno. Absolutely delicious oven-roasted, milk-fed baby lamb, made with garlic and rosemary. Not sure if I could afford this, but it'll be on my radar. (Secondo—for dining, same place, refer to Primo)
The fruits are the best desserts in the region!
Other observations in Lazio:
People in the region eat particular foods on certain days of the week; they don't have to, but it's a tradition. For example, Tuesday is fish or
bollito misto.
Thursday is gnocchi. Friday is cod and
pasta coi ceci
, and so on.
I also learned that
laziali
use salt rather liberally. Quoting directly from the book,
This preference for salt dates back to ancient Roman times, when a person possessing salt was considered wealthy, and abundant dispensation of salt was viewed as a sign of generosity or, perhaps, wild extravagance.
In many restaurants and homes in Lazio, salt is not kept in a shaker but a special dish called a
saliera.
Romans dress very consciously and dress to feel that they look their best. Women choose their colors in clothes, accessories, hair, makeup, and nails with great care, and they frequently wear lots of jewelry. They dress to flatter their figures. I need to get used to being one myself. When in Rome, do as the Romans do!
***
That is all for now! I'd be sure to add more jottings in more details when my readings reveal more about a particular place or region.