The
Wondrous Words Wednesday
meme is hosted by Kathy of
BermudaOnion's Weblog
. For today, I would like to share the three words I found in one of the very first Italian books I bought for my self-study:
Le avventure di Nicola: La gatta persa (Adventures with Nicholas: The Missing Cat)
.
This is a cute book!
Here you go
...
"Si, quella è principessa. Grazie."
"Prego. Mettiamo i disegni per tutta la città."
Ed è quello che fanno.
In English: "Yes, that's Princess! Thank you!"
"
You're welcome
. Let's put these pictures all around the town."
And that's what they do.
"Andiamo in biblioteca, papà. Molta gente va in biblioteca."
In English: "Let's go to the
library
, Dad. Lots of people go to the library."
"Andiamo in albergo. Molte gente va in albergo."
In English: "Let's go to the
hotel
. Lots of people go to the hotel."
In Summary:
prego – you're welcome
biblioteca –

library

albergo

– hotel
How do you like these words? Please share yours too!
***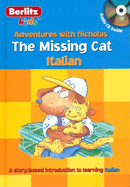 So, did Nicholas find his cat, Principessa, in the end?

Si deve leggere
il libro
per sapere
!
The book comes with an audio CD and listening to it was a joy. It has some cut
e sound effects and is designed for parents to engage in the la bella lingua (beautiful language) with their kids. Besides the story, there are also entertaining
and memorable

songs that help kids learn the sound of the language more easily. I totally dig it!