My Teaser: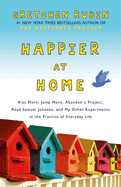 For better or worse, buying things (or photographing them, cataloging them, or writing reviews about them) is a way to engage with the world. When we're interested in something, we often express that by researching, shopping, buying, and collecting.
This is from page 23 of
Happier at Home
by Gretchen Rubin.
See more
Teaser Tuesdays
here
by other bloggers. This weekly bookish meme is hosted by MizB of Should Be Reading.