My Teaser: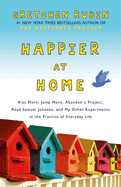 By "shrine," I didn't mean a niche with candles, flowers, and a statue, but rather, Eleanor-like, an area that enshrined my passions, interests, and values. A shrine is arranged with care. It entices people to particular activities and moods. It's a sign of dedication.
This is from page 30 of
Happier at Home
by Gretchen Rubin.
See more
Teaser Tuesdays
here
by other bloggers. This weekly bookish meme is hosted by MizB of Should Be Reading.