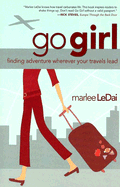 Excerpt from the back cover:
Ready for a trip of a lifetime? Whether you'd like to walk in the warm sands of a Hawaiian beach, camp at a nearby lake, take a day excursion while on a business trip, or just read of such travels, Marlee LeDai can help you find adventure wherever you are.
Go Girl
will ignite your curiosity about the world and give you the courage (and travel tips!) you need to leave behind the familiar and explore new terrain. Whether it's a mission project, family vacation, personal pilgrimage, or girlfriend getaway, your travels can show you not just new places but valuable new things about yourself, others, and God.
You'll never see the sea divide with your own eyes until you take the first step," writes Marlee. What are you waiting for? Pack your bags and get ready to be amazed by adventure!
I had enjoyed
GO GIRL
(ISBN: 9780800759711) by Marlee LeDai, illustrated by her daughter, Leyah Jensen who is a book designer for Scholastic. This very easy-to-read book has fired up even more my desire to travel.
Some of the posts I've written last month while I progressed slowly and thoughtfully through the book are:
The 205-page book has
four parts
and at the end of each part a
traveler's profile and story
:
Part One—An Encounter with Amazing Grace.
Part Two—Explore the World; Discover Yourself.
Part Three—A Time for Epiphanies.
Part Four— The Adventure Is Already within You.
Apart from the inspiring profiles, there are plenty of quotable quotes and it's no wonder that my copy is full of yellow highlighter marks. They were perfect for sharing on my Facebook page,
The Weekend Traveler
, which I did. Seriously, you can't help but be inspired as a traveler, especially if you're a woman.
In one part, the author read
Under the Tuscan Sun
, by Frances Mayes and wanted to live that story. I immediately searched for the movie and found it on YouTube. This was perfect for my current project, Weekly Italian Movie. It's little snippets of gems like this that's so wonderful. You'll never know what you will find that gels so well with what you want to do or are doing.
GO GIRL also offers lots of great travel tips such as how to travel overseas, stay-safe tips for traveling solo, the absolute essentials, and many more. One I particularly loved is "laughing is the best-kept secret of a successful trip". I agree!
I would like to be able to better articulate my travels in the future through documenting in words and photographs. I'm on my way to doing the thing I felt is right for me, and that is living a simple life. I'm keeping my belongings few with just a passport, a camera, a laptop, an iPhone and my journals (which includes this blog where I "live online") and my social media networks.
My final word: This is a great book!