Material accessories don't mean much anymore, and neither do the trap-pings of success. I don't punish myself, but if necessary, I can live on V-8 juice and cottage cheese. I can sleep on a wooden deck or stone terrace or sack out on the sofa. That doesn't mean I don't appreciate sleeping in a soft, silky bed; it just means that if sleeping on the floor of a ferryboat means going somewhere at the same time, and if needing to sleep in a warm bed means not going at all, I can sleep on the floor of a ferryboat.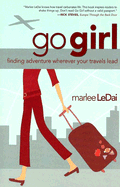 The above passage—found on page 42 of
GO GIRL
(ISBN: 9780800759711) by Marlee LeDai—rings true for me. If I have a place I want to go, a place that has been calling my name, then I'll try my best to make it possible. I don't need to go in style or be in comfort. If I need to sleep in the airport instead of a hotel or hostel to save money to catch the next day's flight, I'd do it and have done it.
I recently coined a name for myself—
The Weekend Traveler
—when I realized that I've been making it happen and going to places for short weekend trips. These places don't have to be far. For example, I make it a point to get to know Penang better. I signed up for the
Rapid Penang
monthly bus pass for unlimited travel. I have also bought some air tickets (cheap or zero-fare
Air Asia
flights) to a few places such as Sandakan, Kuching and Langkawi—all lined up for April, May and June. My biggest trip would be to Italy at the end of the year and since I am going with barely any money, I would be hunting for the cheapest flight... I am a budget traveler.
I bought this book three years ago and only started reading it now. I'm pleasantly surprised with so many things that resonated with me in this book. I'm so happy to know that there are so many of us out there who share the same passion for travel.
So go with much money or barely any. Go in blue jeans or skirts. Go near or far, fast or slow, alone, with a friend, or with a group. Just go. Step out of those revolving doors, off the beaten track, and onto the road less traveled. Find some wonderful corner of the world and immerse yourself in it. Find out what you have to say to yourself.
I invite you to join me in my travels and "Like" my Facebook page at
The Weekend Traveler
. See you there!