It's Monday once again (almost ending, though) and Tuesday is approaching, but before the clock strikes twelve, I'd like to quickly share with you what I have been reading for the week. It's a
libro di cucina
(cookbook) featuring a compendium of family recipes and anecdotes of the Trigiani family.
What make this book special are the storytelling, humor, family photographs, and of course, the precious recipes.
COOKING WITH MY SISTERS
by Adriana Trigiani and Mary Yolanda Trigiani is one delightful read.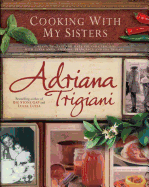 Like many other women of our generation, we learned to cook by watching our mother and our grandmothers. The women of our family, though, tapped the ancient roots of three Italian regions while they adapted their recipes with American innovation and ingredients. From the farm regions of Bari in Puglia to the mountains of Big Stone Gap, Virginia, with winding roads in between, their legacy reflects the diversity of our Italian experience through a prism of all-American life.
I'm loving Chapter One, so far! I do have another cookbook on Southern Italy cooking,
MY CALABRIA
, but I'll share that with you another day.