After reading
Much Ado About Nothing
(for my
Italian Reading Challenge
) and watching
Mafioso
(for my Weekly Italian Movie)—coincidentally both were set in Sicily—I couldn't resist the urge to pull out my travel guide and check out everything Sicily has to offer. From crazy Palermo to mellow Siracusa (Syracuse), I am completely bowled over.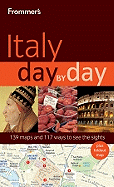 On this lovely Monday night, I am reading from Frommer's
ITALY DAY BY DAY
. I bought the guide last year after making the decision to go to Italy. After getting acquainted with the Italian language, I am completely in love with it. I began to put serious efforts into (self)-learning it and I hope that by the time I go to Italy in a few months' time, I would have mastered the basics.
Okay, back to Sicily. Pages 634 through 685 provide good insights to the largest island in the Mediterranean Sea, but I did wish for the book to give a better introduction of each city in the region. There are several ways to plan your itinerary: for 3 days or for a week; for art, architecture of archaeology enthusiasts; or for lovers of the sun and sea. There are also dedicated sections for Aeolian Islands, Palermo, Taormina, and Siracusa. I became acquainted with
Mount Etna
(an active volcano standing at 3,324m),
Cappella Palatina
which is a part of
Palazzo dei Normanni
in the busy and stressful
Palermo
, the
Teatro Greco-Romano
(which still hosts theatre, 2,300 years after it was built) in
Taormina
,
Piazza del Duomo
in
Siracusa
, and many, many more.
If you wish to see the less-traveled side of the island, you can focus on
western Sicily
instead of the more well-known destinations of eastern Sicily. For example, the
Valley of the Temples
in
Agrigento
, or
Trapani
which is still an important fishing port.
That's all for now! More in the coming days...