For today's
Teaser Tuesdays
here's another one from
A DISCOVERY OF WITCHES
(ISBN: 9780143119678). In my last post, I was at page 360 and today I've reached page 454. Here's my teaser from page 445: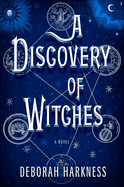 "I promise not to draw blood, if you promise not to weep."
It was easier to ignore his words than his fingers. "Prince Arthur and Catherine of Aragon!" I said triumphantly, pleased at my ability to recall relevant historical information under such distracting conditions.
Could you guess what Matthew de Clermont (an enigmatic vampire scientist) and Diana Bishop (historian and witch-in-denial-of-her-powers) are doing when Matthew uttered the quote? I loved this passage because they are still capable of sprouting intelligence and wittiness in moments of passion, such as this one. Happy week ahead!