For today's
Teaser Tuesdays
I'm quoting from
EASY ITALIAN STEP-BY-STEP
(ISBN: 9780071453899) by Paola Nanni-Tate. This is taken from page 51 in a section for reading comprehension: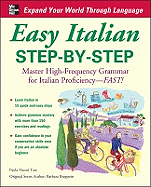 La vita a Milano è caotica. E difficile conoscere gli abitanti di questa città. A Milano ci sono molti posti interessanti. Nel centro c'`e il famoso Duomo, una chiesa bellissima e molto grande. C'è la Galleria, dove ci sono ottimi ristoranti e bellissimi negozi di argenteria e di abbigliamento.
Nella Galleria ci sono due librerie internazionali molto grandi e molto ben fornite.


The above Italicized sentence caught my attention and my curiosity got the better of me. Here's my English translation: In the Galleria there are two international bookshops that are very big and well stocked. (I am happy to note that I am getting better at comprehending what I read. HURRAH!)
I have a question: can anyone tell me the names of the two bookshops mentioned in the text?
My Google search revealed several such as
Libreria Bocca
,
Libreria Rizzoli
and
IPZS.
Grazie tante!