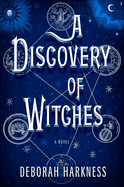 A DISCOVERY OF WITCHES
(ISBN: 9780143119678) is a novel of magic, adventure and romance. Matthew Clairmont is an enigmatic vampire, a scientist, very intellectual and although his initial interest is in an enchanted alchemical manuscript, now he can't seem to resist Diana Bishop, a powerful witch who is in denial of her own powers. She is the one who could unlock the secrets of the ancient manuscript. Diana is a young scholar and historian.
Their unexpected alliance quickly leads to attraction and love, and this is where trouble starts. Their forbidden relationship will have the Congregation—the covenant of witches, daemons and vampires—closing in on them, and putting everyone around them in danger. The Covenant dictates the rules of behavior for all underworld creatures and have the power to cruelly punish rule breakers.
I liked that the novel includes both first-person narration (Diana's) and third-person omniscient narration. Just like what the author said, the combination of the two narratives gives us readers the immediacy of Diana's experience along with some answers to the questions about Matthew.
Another great point about this novel is that there are many references to literary works and authors throughout history, but never boring. They highlight the common grounds for Diana and Matthew, and offer perfect sentiments for various scenes in the story. Both of them sprout quotes and because of their backgrounds, they are able to relate and respond to one another wittily and intelligently (for example, see
this post
). I supposed this is what made the novel special to me. The romantic moments are tender and passionate, yet clean. I am amazed at how Deborah Harkness manages to weave those moments together so beautifully.
The 722 pager ends with a mysterious note when Diana and Matthew timewalk to a period of history, the sixteenth century, and I am dying to know about their next adventure. I will be right behind, following them in book two of
The All Souls Trilogy, SHADOW OF NIGHT
.
Related Posts: