The only reason I couldn't give this novel a 5-star rating is because I wanted to read more about Talanov and his wife (that's just my personal preference!), but their time together was so shortlived in this story. Well, so much effort was put in in the first book (it was an un-put-downable, suspenseful ride with a fab plot) that is why I didn't want something so good to end so soon. But I understood the author's intent when he offered his explanation. Thank you, Jim!
The Review (4 stars)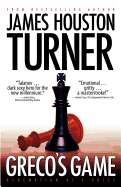 Having read the first Talanov book, DEPARTMENT THIRTEEN, I bought this book the moment it's available on Kindle. The timing was perfect, too, because I could then read it while vacationing in Bangkok, Thailand; thus, putting it to the test: Is it good enough to make me WANT to read it knowing that I will be busy doing the holiday thing?
The answer is YES.
GRECO'S GAME
(ISBN: 9781936695485) is a great, fast-paced read true to the Talanov spirit and once you start it's really quite hard to stop. So I strategized my reading and only pick it up when I know I have at least 30 minutes to spare at any one time.
I have no interest in the game of chess; yet, the author manages to ignite the said interest in me by cleverly weaving the game strategy and thinking into the story. In this story, Talanov gets himself entangled in a major human trafficking ring while tracking down the murderer of his wife. He bumps into a beautiful Ukrainian prostitute and one thing leads to another. I finished the book before I finished my vacation! Bring on the third, James Houston Turner!
Read all the
book reviews
here. By the way, you can read this as a standalone; there's no need to follow the sequence BUT I would highly recommend that!
Who is Aleksandr Talanov? Get to know the ex-KGB agent on Facebook!