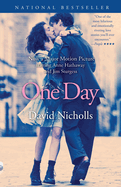 I bought the book on a whim while hanging out with my friends nicknamed Uncle and Monkey, and I'm so glad I did. I couldn't resist the cover. As the story unfolds, I realized this is indeed a special book and it is not an ordinary love story.
One Day
is told in a format so interesting (at least to me it is) that each year following the night Dexter and Emma spend together on the night of their college graduation, they are revisited each year on the SAME DATE to see where they are in their lives. They are sometimes together, sometimes not, on that day. I decided to do something different in this review by showing you the first paragraph of each chapter that begins with the date they are first together:
15 July 1988
.

:: PART ONE: 1988-1992, Early Twenties
::
CHAPTER ONE: Friday 15 July 1988


'I suppose the important thing is to make some sort of difference,' she said. 'You know, actually change something.'



CHAPTER TWO:

Saturday 15 July 1989


Ciao, Bella! How are you? And how is Rome? The Eternal City is all very well, but I've been here in Wolverhampton for two days now and that's felt pretty eternal (though I can reveal that the Pizza Hut here is excellent, just excellent).



CHAPTER THREE:

Sunday 15 July 1990


'ATTENTION PLEASE! Can I have your attention? Some attention if you don't mind? If you could listen? Don't throw things, listen please? Please? ATTENTION, PLEASE? Thank you.'



CHAPTER FOUR:

Monday 15 July 1991


'ATTENTION PLEASE! Can I have your attention? Attention everyone? Stop talking, stop talking, stop talking. Please? Please? Thank you. Right I just want to go through today's menu if I may. First of all the so-called "specials". We've got a sweetcorn chowder and a turkey chimi-changa.'



CHAPTER FIVE: Wednesday

15 July 1992


And then some days you wake up and everything is perfect.

Twenty years. Two people. You can indeed live your whole life not realizing that what you're looking for is right in front of you. I loved this book. I felt for the characters and being in my thirties enables me to relate to the lives of Emma and Dexter; what they once were and what they can become. It is funny, it is heartbreaking and it is touching. Having someone that you care for deeply and love is wonderful. Loving that special someone can sometimes be painful.

:: PART TWO: 1993-1995, Late Twenties ::


CHAPTER SIX:

Thursday 15 July 1993 (Part One - Dexter's Story)


These days the nights and mornings have a tendency to bleed into one another. Old-fashioned notions of a.m. and p.m. have become obsolete and Dexter is seeing a lot more dawns than he once used to.



CHAPTER SEVEN:

Thursday 15 July 1993

(Part One - Emma's Story)


Ian Whitehead sat alone at a table for two in the Covent Garden branch of Forelli's, and checked his watch: fifteen minutes late, but he imagined that this was part of the exquisite game of cat-and-mouse that is dating. Well, let the games commence. He dunked his ciabatta in the little dish of olive oil as if loading a paintbrush, opened the menu and worked out what he could afford to eat.



CHAPTER EIGHT: Fri

day 15 July 1994
Emma Morley eats well and drinks only in moderation. She gets eight good hours sleep, then wakes promptly and of her own accord at just before six-thirty and drinks a large glass of water - the first 250ml of a daily 1.5 litres, which she pours from the matching glass and carafe set that stands in a shaft of morning sunlight by her double bed.



CHAPTER NINE: Satur

day 15 July 1995


The words glowed in bilious green on the word-processor's screen: the product of a whole morning's work. She sat at the tiny school desk in the tiny back room of the tiny new flat, read the words, then read them again while behind her the immersion heater gurgled in derision.
There are two more parts that tells the life of Emma and Dexter in their early thirties (from 1996 to 2001) and late thirties (from 2002 to 2005). I resisted the urge to include the excerpts for fear of revealing too much. The novel ends with Part Five.
One Day
is a romantic comedy and one that made me cry buckets.
What happened in the story hit me like a ton of bricks. Dexter is not exactly your ideal type of person to spend the rest of your life with, but if one ever finds herself a "Dexter" (or himself an "Emma"), it'll be worth all the life experience that comes with it. I'm definitely watching the movie; can't wait!