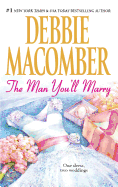 Would you fancy having in possession a wedding dress, made many years ago, that bears the promise
the first man you meet is the man you'll marry
?
The latest installment of the Blossom Street series is a novel by Debbie Macomber that tells the two stories of two women who receive the supernatural wedding dress under very special circumstances. Shelly Hansen and Jill Morrison are best friends. The characters are warm and funny, and I sure warmed up to Shelly who is rather stubborn and refuses to believe in the magic of her great-aunt's wedding dress. She later passes the dress down to Jill. Shelly and Jill both meet with two men who certainly do not look like the husband-material type. Under such magical circumstances, is it true love that Shelly and Jill have found?
One dress, two weddings. It is a charming story with touching moments. It is also a quick read at 299 pages. I would like to take this opportunity to thank fellow book blogger,
Renee
, for her gift of this book. Bless you, my friend!