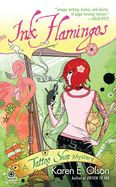 First Sentence:
The picture of the flamingo tattoo was on the blog an hour before they found the body.
Ink Flamingos
, the fourth and last book in the
A Tattoo Shop Mystery
series, has all the elements I loved: tattoos, strong and spunky female character (i.e. Brett Kavanaugh, tattoo artist and owner of The Painted Lady), blogging and a hint of romance between the tattooists in the midst of sleuthing. Karen E. Olson did a fabulous job in this one, I must say!
I'm sorry I took this long to tell you of the good stuff Brett and the gang is up to, but it's never too late to do so, and I'm doing it right this moment.

Besides the mysterious death of a female lead singer of a hot pop band (death by tattoo gone wrong), there is also a very important message of what the cyber world can do to a person's sanity. Brett is suddenly appearing all over the Internet in a blog that is not hers with her pictures and real-time reporting of her comings and goings. Really scary. She is being impersonated and implicated in the crime.
Imagine you in her position. I would definitely not be thrilled to have my privacy breached that way. And not only that, to be living in fear of being followed and photographed and posted online.
I also like the emotional development between Brett and Jeff Coleman, a competitor in the business. I'm so glad Karen decided to play it up more in the last book. I absolutely love the way it is done (nothing explicit, thank goodness for that)!
To Karen:
Thank you for being such a wonderful author and friend. I have enjoyed the series very much and being a great fan of tattoo (even though I don't have one and planning to get it someday), the four books meant a lot to me. Also, being in the "Acknowledgments" section of the third book really made my day!
The gorgeous covers of the "A Tattoo Shop Mystery" Series


Related Posts: