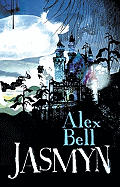 The back cover:
One day without warning, Jasmyn's husband died.
Since then, everything has been different.
Wrapped up in her grief, Jasmyn is trapped in a world without colour, without flavour
—
without Liam. But even through the haze of her misery she begins to notice unusual events, a sense of being watched, a strange man visiting her home and asking pointed questions about her dead husband. Her world has turned upside down, but even so, things are not as they should be.
Eventually Jasmyn begins to explore the discrepancies that have sprung up after his death
—
the plane tickets to place
s Liam claimed he'd never visited, details of the meetings he was never supposed to have
—
and to follow
their trail back into the events of his life.
Jasmyn
has been in my personal library for close to two years when I finally dished it out about a week ago from the pile and started reading. I should have done it earlier. Jasmyn the protagonist has a certain voice and the author, Alex Bell, did a good job characterizing her. Jasmyn is a freak (to most of the people because of her albinism) but to her husband Liam, she is a snow princess. It is most unfortunate that he has to die at such a young age and that makes her a young widow.
It is also very odd that the husband she knew during their courtship becomes a different person when they wedded. Before, he is an animal lover but after, he does not want anything to do with them. Even her mother-in-law seems to hate her. Liam's estranged brother, Ben, seems to give the impression that he dislikes her.
The story then takes us on a journey with Jasmyn and Ben hunting for a very valuable item, which is also something that a few people are looking for and they all have some sort of connection with Liam. Along the way, Jasmyn is exposed to a dark fairytale filled with black swans, knights, castles and bones. It is a story of lost love, stolen love, and war between brothers.
Initially I found myself irritated with the writing because there were bits that sounded mechanical, but then I realized it might just be the way Jasmyn thinks and says things. She is, after all, a special girl. I had truly enjoyed the story and it had kept me interested in wanting to know how it would all end.
Page 1:
Don't start this book unless you mean to finish it.