I hope you're having a great weekend! It's been a while since I talk about books and although they're always on my mind, I had hardly hold one in my hands for the last few weeks. I haven't been visiting my blogger friends, as well, and I'm sorry.

Today is a lovely Saturday, I had planned on going out but the rain came and took the morning away. I decided to be productive and cleaned my apartment, wait for the handyman to come fix the leaky pipe and finally did laundry. Coming back to books, I did not buy any physical ones but settled for an audiobook and some Kindle editions.

I have 2 credits at
Audible.com
and couldn't think of anything to listen to until I suddenly remembered
Water for Elephants
. The book has also been adapted to a movie starring Reese Witherspoon and Robert Pattinson, and is now showing in the Malaysian cinemas. I happily use one of my credits for this audiobook.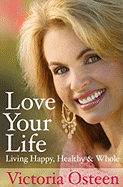 On the Kindle front, I purchased
Love Your Life
by Victoria Osteen from
Amazon.com
after browsing at Borders two days ago. Buying the Kindle editions saved me approximately US$10.
I was flipping through the pages and loved the way she writes. She talks to you like a friend and shows her readers how to turn the challenges of each day into opportunities to love and appreciate all that they are. I certainly need an uplifting read and this one is perfect.