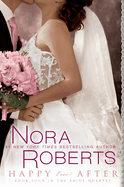 Happy Ever After
(Book Four in the Bride Quartet)
By
Nora Roberts
Book Excerpt
Publisher: Berkley
Published: 2010 (Roughcut Edition)
ISBN-13: 9780425236758
368 pages
Page 47:
"Parks, your excuses are so lame, they're limping."
So once again, we meet childhood friends Parker, Emma, Laurel, and Mac, but this time it's a wrap! To recap, the first book is about Mackensie "Mac" Elliot who is a photographer and her love interest, Carter Maguire Ph.D., an English professor. The second book takes us into the world of Emmaline "Emma" Grant who is a florist and Jack Cooke, an architect and family friend for ages. The third one lets us we experience the relationship between Laurel McBane the wedding baker and Delaney "Del" Brown the Ivy League lawyer. In this fourth and last one, we get a taste of Parker Brown (Del's sister and the brains behind Vows) and Malcolm "Mal" Kavanaugh (gorgeous hunk of a mechanic).
I had a love-hate relationship with Happy Ever After. I love Mal's bad boy personality and wittiness, and I also worship Parker's efficiency and multi-tasking ability. She is super organized and there is nothing she cannot handle. What I do NOT love, though, is the lengthy wedding planning and execution details. I admit I skipped about for a bit when I see those parts coming, but I did enjoy them in the beginning. However, it got tired after a while.

Having said the above, I loved the way Parker articulates and paints the picture of her client's perfect wedding. How I wish I have someone (or a wedding planner!) who would go through all that trouble of researching me, just like Parker does. Because she is such a wonderfully organized person, I also want to emulate her efficiency. She inspires me in that way.
The sexy, Harley bike hunk, Malcolm calls Parker "Legs" and rightly so because apparently she has legs to die for. Now, if I could have her legs AND brains combined with Mac's show-stopping arms, I would be in heaven. I have not actually seen those limbs but I can definitely visualize.
How about Malcolm? What makes him so desirable? This is Parker's description of him on page 50: "Hot, primal, rough-edged. Motorcycle and leather, torn denim and cocky grins. Hard hands, a hungry mouth." See what I mean?
I think the story is OK and somehow did not meet my expectation for a great wrap-up. Something is missing in this book (is this actually possible in Nora's books?). Please help yourself to the reviews of the first three books listed below.


Related Posts: