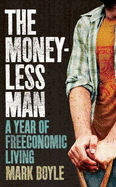 The Moneyless Man
By Mark Boyle
Publisher: Oneworld Publications
Published: 2010
ISBN-13: 9781851687541
244 pages
First paragraph,

Prologue

, page xi:
Buy Nothing Eve, 28th November 2008. The timing just doesn't get any better. Five past six on the evening of my last day in moneydom and as far as I am concerned, the shops have effectively closed down for a year. It's been an unexpectedly long day; the media caught a sniff of my plans to live without money and so, instead of making the final preparations for my impending social experiment and—far more important
—
having a last pint of ale at my local, I ended up doing interview after interview after interview. The sound of my voice answering the same questions over and over again has made me slightly nauseous.
Inspiring. Intriguing. Eye-opening. Thought-provoking. Entertaining. These are the few words I will use for this interesting book by Irishman Mark Boyle.
The Moneyless Man
is a book detailing his yearlong social experiment of living without money. It will also wake us up (at least it woke me up) from our consumerist culture and obsession with money.
Mark, a former businessman, sold his possession and embarked on this mind-boggling journey. How would one live without money? What does he eat? Where does he live? How does he deal with the changing seasons, especially when it is harsh, cold winter? How does he wash? How about his relationship with his friends and family and people in general? If he is living a moneyless life, how does he keep in touch with the outside world? He uses the cellphone and laptop to continue spreading the word, so how does he produce his own energy?
Why is he doing this? In June 2008, he made the decision to give up money for at least a year and to start living that way at the end of November, on International 'Buy Nothing' Day. Why set himself up for something as extreme as this? He did not go on this journey alone or without support. He did not live an alienated and isolated life, but continues to interact with like-minded people like him. These are very helpful, supportive and knowledgeable people. They offer their skills in the freeconomic environment.
In this book, he lays out the
rules of engagement
—
there are six of them
—
mainly to deal with his inner demon so that he will not succumb to temptations. He says on page 18, "Knowing your weaknesses will always be one of your greatest strengths."
Without proper preparation, the author knows that he is setting himself up for failure, so he shares about
preparing the foundations
, which is dealing with setting up the infrastructure to enable surviving in the wild. How do you avoid paying rent? So the author shares how he acquire his
shelter
and put it in somewhere for free. How about
energy
? Living off-grid means he would need to look after his energy and waste-disposal needs. Then, there is
food
that is absolutely necessary for survival, so he talks about growing, foraging, skipping (sometimes called bin-diving or bin-raiding) and cooking. For
transportation
, he uses two main forms of free transportation: walking and bicycle. Lastly,
communication
. Find out how he deals with connecting onto the Internet and using the phone or cellphone without money.
There are lots of practical tips such as building a rocket stove for cooking, keeping clean without toiletries, making ink and paper from mushrooms, hitchhiking, and so on. I cannot imagine digging a hole in the ground and pooping into it, which also plays the role of a compost heap for growing my food. How do you clean yourself after that? Mark deals with that, too.
Mark loves reading and he organizes book-swapping evenings, which is similar to websites such as
ReaditSwapit
and
BookHopper
. He also mentioned about
Book Crossing
that most booklovers are aware of; I am also a member. I give the author extra brownie points for his love for books!
Here are some of my favorite quotes from
The Moneyless Man
:
My list-making enabled me to establish my basic level of subsistence, the things I really couldn't do without, and my priorities for the rest.

Those who always want something more will always live in poverty, regardless of how much they earn, [...].

"My favourite times were when it rained heavily. I'd listen to the rain crashing on the roof with a real appreciation for the shelter that was keeping me dry and protected [...].

It is possible to be extremely happy despite having little money [...]. You can also be really unhappy despite earning a high salary.

While I may not follow his footstep of living without money right this moment, I want to live a life that offers good to others without expecting anything in return, which is also the core of this book. I am already doing this to a certain extent but not good enough. I want to be able to do more. I am also more aware of the way I spend money and consuming more carefully.
I highly recommend this compelling book.
About the Author: Mark Boyle founded the worldwide 'freeconomy' movement. An economics graduate and former businessman, his website (
justfortheloveofit.org
) has become a hub for community sharing with over 15,000 members. He is a regular contributor to the
Guardian
and
Ethical Consumer
magazine, and has been featured in a variety of national media, including Sky News, BBC Radio Four, BBC Two,
Daily Mirror, Daily Mail, Telegraph,
and
The Times.
Related Post: Teaser Tuesdays