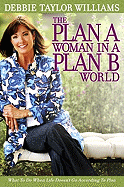 I can't think of a better way to start a brand new year than with joy and humor. A few weeks ago, I won
The Plan A Woman in a Plan B World
by Debbie Taylor Williams (ISBN: 9780891126416) from Renee of
A Path of Joy
. I was going through my bookshelves to pick out books that I'd like to take back with me to Penang, and this one caught my attention. I flipped through the pages and the last part,
Laugh Out Loud: Living with Joy and Humor
beckoned me.
I'd like to share with you snippets from the
Eight Ways to Develop a Sense of Humor
on pages 213 and 214:
Recognize the

value of humor

| Spend time with

people who have a sense of humor

|

Practice

friendliness

| Make a point of

being around people

| If you work from home or are housebound most of the time, seek out

humorous reading material

| When you're down or out, look for

things to smile about

—a funny little bird, your pet's antics, [...]—now, that'll get you chuckling

|

Share something humorous

with another person each day via email, over the phone, or in person |

Ask God

to help you see the lighter side of life.
I love laughing out loud. I also love curling up on the sofa at home reading a good book. Now, I also look "stressed" and intimidating half the time, so it's hard to "read" me, but really, I'm very predictable. I love surrounding myself with humorous people. I love engaging with people. But I also love being alone with myself. This chapter says that whatever it is that makes you tick,
you can develop humor through use and repetition
. All of us can practice to look for things to smile about!