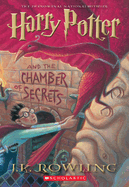 Harry Potter and the Chamber of Secrets
By J. K. Rowling
Publisher: Scholastic
Published: 2000
ISBN-13: 9780439064873
352 pages
First paragraph, Chapter One, page 1:
Not for the first time, an argument had broken out over breakfast at number four, Privet Drive
. Mr. Vernon Dursley had been woken in the early hours of the morning by a loud, hooting noise from his nephew Harry's room.
Finishing the second book of Harry Potter made me a happy girl! Once again, I checked
Amazon.com
and found that
Harry Potter and the Chamber of Secret
has been reviewed for more than 2,700 times. I bet almost the whole world knows what the story is about so there really is no point for me to attempt a synopsis. Click
here
to read the reviews.
I learn from this story that in trying to help someone, a person can sometimes hurt the very person one is trying to protect. This is seen in the case of Dobby the house elf. He means well in trying to warn Harry not to return to Hogwarts because evil awaits him there. Harry ignores Dobby's warning and manages to return to school anyway for his second year. I cannot tell you much for you must read the book; you must check it out. Clever plot, this.
The story is also full of resolve, in that, friends stand by for each other, and when the going gets tough, they do not give up. You can see how Harry, Ron, and Hermione help each other and care for one another. They have deep trust and when Hagrid is blamed for the unfortunate events at Hogwarts, they try their best to find out about the truth and help their friend in need. Loyalty is an important element in this story. You can also see determination, especially by Hermione in trying to come up with solutions or when facing stumbling blocks.
Now, Gilderoy Lockhart, the new Defense Against the Dark Arts teacher at Hogwarts is one very vain person. He irritates the hell of me but Hermione (the genius girl) is very fond of him; even Mrs. Weasley is smitten. He is so full of himself and loves every chance of publicity. He is all talk (no substance) but a very convincing one at that, having published many books that majority of them are being used at Hogwarts for teaching. It just goes to tell that even in the world of witchcraft and wizardry, hiring the wrong people can happen. It is not foolproof.
I am glad I rejoined Harry after his first year's adventure at Hogwarts. The story gets even better in this one. Very engaging and imaginative. It is also funny. The characters feel alive to me. I am contemplating the audio version for the rest of the Harry Potter series, thanks to
Sandy Nawrot
who highly recommends it.
In conclusion:
Highly recommended
!
Related Post: Harry Potter and the Sorcerer's Stone