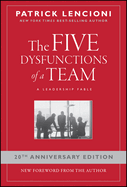 The Five Dysfunctions of a Team
By Patrick Lencioni
Publisher: Jossey-Bass
Published: 2002
ISBN-13: 9780787960759
229 pages
First sentence,

Introduction

, page vii:
Not finance. Not strategy. Not technology. It is teamwork that remains the ultimate competitive advantage, both because it is so powerful and so rare.
This is a business book—yes—but if you are a lover of fiction, you would probably like this 229-page hard cover book too.
The Five Dysfunctions of a Team
is a highly readable leadership fable. Having worked in a few American corporations in my life, I found the scenario presented in the book to be very true. Also, it does not only apply to American companies but anywhere in the world where there are people working in teams. I mention "in" team, but whether or not they work "as" a team, this is what the book is about.
The book has two sections:
The Fable
and
The Model
. A large part of this review talks about the former. In section
The Model
, it provides more information about the model to help readers understand and overcome the five dysfunctions. There is also a team assessment sheet available for use.
Here is some background to the story. DecisionTech, Inc. is one of the most talked-about, well-funded and promising start-up companies in Silicon Valley. The company, however, after its first few months of glory began to experience a "downturn": slip of critical deadlines, resignation of key employees, gradual deterioration of morale. Two years have passed (for a technology start-up it is a lifetime) and the company is not achieving its revenue and market goals. Having worked in a technology start-up and experienced the same scenario, I understood what DecisionTech is going through.
There is a key group of people that forms the executive team. The primary character is Kathryn Peterson, the newly appointed CEO. Over the next chapters, you will see how her direct reports interact with one another. Kathryn is experiencing difficulties getting through to them. She is very experienced in the corporate world and nearing retirement, but have no direct background working for a company such as DecisionTech leading a group of young and brilliant senior executives. As you read along, you will see how she turns the team around. The transformation did not happen overnight but her persistence, determination and her constructive confrontation approach makes it possible.
Kathryn uses the model—
The Five Dysfunctions of a Team
—to drive her points across:
Absence of TRUST (Invulnerability)
Fear of CONFLICT (Artificial Harmony)
Lack of COMMITMENT (Ambiguity)
Avoidance of ACCOUNTABILITY (Low Standards)
Intention to RESULTS (Status and Ego)
The model is drawn in the format of a pyramid with "Absence of Trust" at the bottom of the pyramid and "Intention to Results" at the top. She explains them at the first off-site meeting she organized for her team. I am oversimplifying things here but if you read the story, you will see how hard she has to work at breaking through to her colleagues.
Lencioni describes how Kathryn ran her staff after her initial team-building off-sites and the significant investment in time that it required.
I also like the author's interesting comparison between team meetings and movies. They are both about the same length, approximately 90 minutes to 2 hours. Usually we hate meetings because they are boring (but they are interactive and relevant). Movies have one key ingredient—conflict—and that makes them interesting. We can make a meeting interesting by allowing good conflict.
One more thing that I picked up from this book is putting the wrong people in the wrong position. Jeff Shanley, founder and former CEO, is a perfect example in this book. He is great at what he does but he cannot lead a team, which is reflected in the company's performance and his eventual removal as CEO. However, put him in the right position, he thrives. He is still on the board of directors but he now reports to one of the executive team members, and that is fine by him. He is happy. I saw this very same scenario in one of the recent ex-companies I worked with.
According to Lencioni, the book is based on his work with CEOs and their executive teams, but its theories are applicable for anyone interested in teamwork, whether as a team leader or as a member of a team. After reading this book, I certainly feel that its principles can be applied—not only in a business environment—but also in marriage, family, book clubs, and in almost any setting. Usually I will not call a business book a page-turner, but this one sure is.
Note:
Thank you, Sally, for lending me the book! I have thoroughly enjoyed it.