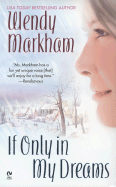 If Only in My Dreams
By
Wendy Markham
Publisher: Signet Eclipse
Published: 2006
ISBN-13: 9780451220035
400 pages
This is the first time I'm reading Wendy Markham and I've enjoyed
If Only in My Dreams
very much. The female protagonist Clara McCallum has just landed a huge part starring in a WWII film as a woman in love with a doomed soldier named Jed Landry. At the same time she's also diagnosed with breast cancer, which leaves her devastated. While filming, she's magically transported back in time to 1941 where she meets the real-life Landry; it takes her some time before she realizes that she's no longer on the set but the real thing.
I love the convincing period details, and Jed and Clara are wonderfully characterized (so are the secondary characters). Is Clara back in 1941 for a reason—to save Jed from being killed in war? Can she change history? If she stays in 1941, she will be fighting a losing battle with cancer. There is nothing predictable about this story although I half expected it to be so. The story had me bawling so much I was hideous by the end of it, but contented and happy. Time travel. Love. I love the ending, I tell you—it's not what you'd think it'd be. A great Christmas read too.
NOTES:
This is a 200-word review. By the way, Wendy Markham is the alter-ego of
Wendy Corsi Staub
, an award-winning author of psychological suspense novels. Thank you,
John Valeri
, for arranging with Wendy to send
If Only in My Dreams
and
The Best Gift
(the sequel to this novel) to me last year!