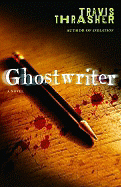 Ghostwriter
By Travis Thrasher
Publisher: FaithWords, Hatchette Book Group
Published: 2009
ISBN-13: 9780446505581
368 pages
First paragraph, Page 7:
Terror should start in the dead of night, with rain trickling off the rooftops and thunder bellowing in the sky. But for Dennis Shore, it began with a simple ringing of his doorbell
.
I am not sure how I feel about this book and I keep flipping back and forth and looking at the pages I have read and hoping that it will be finishing soon. That I will reach the last page soon. It is not like I dislike the book but I did not quite enjoy it also.
Ghostwriter actually starts off pretty well with a mysterious, battered girl appearing at his doorstep beckoning and warning him NOT to publish his latest book or he will end up like her.
I haven't even read anything by you. I just lied and told him I had. Not even to be cool, you know. Just to say I had. [...]
Someone out there is trying to get to Dennis Shore, an author whose wife had just died and he is "dry." Yes, he has thrilled his loyal readers with many spooky novels but now he is stricken with writer's block. Desperately facing a deadline, he did the unthinkable. He steals someone's work and makes it his. That is when the horror begins to unfold before him. The battered girl is sent to him as a warning.
There are some exciting parts that made me cannot stop reading but then each time that happens, things begin to sort of slow down again. The parts about a psycho neighbor is exciting, the parts about the stalker named Cillian Reed who is the real author of the book is exciting, but then the constant reference to how he (Dennis) is missing his dead wife and some other slow bits did not make me happy.
There are many good reviews about this book and even Publishers Weekly said "Thrasher just keeps getting better" but maybe it is just me. I cannot fight the feeling that I am not getting enough from this book. I am not spooked. I just keep wanting the book to come to an end.