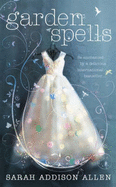 Garden Spells
By Sarah Addison Allen
Publisher: Hodder & Stoughton
Published: 2008
ISBN-13: 9780340953211
327 pages


First sentence, Chapter 1:
Every smiley moon, without fail, Claire dreamed of her childhood
.
Garden Spells by Sarah Addison Allen is a book I owned since July last year but only started reading this year for the Romance Reading Challenge I participated in. It is an enchanting story of two Waverley women of Bascom, North Carolina. The sisters, Claire and Sydney, were abandoned by their mother when they were young and brought up by their grandmother. Like the magic in this story, the pages of this novel turned effortlessly too.

Claire is the center of the story and she is very much a reserved woman. Rightly so because of her family background, of how her mother abandoned her and her sister. One of my blogger friends branded her as a "repressed ninny" but I think that makes her (Claire) all the more interesting. I like Tyler Hughes, the man who enters the story as her neighbor who is deeply attracted to Claire. It is not easy for the self-sufficient Claire to open up and allowing people to enter her life, but as the story unfolds you will see that she slowly does. Tyler never gives up although it seems impossible breaking through to Claire.

The supporting characters in this story are also wonderfully developed. Evanelle (an elderly Waverly woman) has the "gift" of giving things to people without understanding why but those are things the people needed in the very near future. Then there is Sydney's abusive husband—there is quite a bit of suspense there—and her daughter Bay; both of them run away from him and back to where Claire is. The gay Fred. Not forgetting the insecure Emma Clarks who married Sydney's ex-boyfriend, and is still jealous of Sydney until this very day; she listens to her mother who is always full of ideas on how to make her husband happy and plotting against Sydney. I enjoyed reading the relationship—family and friendship—dynamics. Although mostly subtle and quiet, they are still oddly exciting nonetheless.

Great story; great characterization. I like the neat ending and the happily ever after, but more so the story that leads to that ending. You can be sure that I will be reading more of Sarah Addison Allen's works and the obvious choice will be Sugar Queen. I think this is a good choice for "Romance Reading Challenge" and I am glad I picked this book for the challenge. I will also check out Alice Hoffman's works which have been compared to this author.
Related Post: Teaser Tuesdays