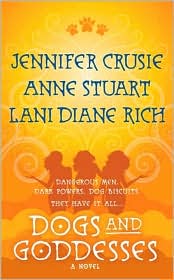 Dogs and Goddesses
By Jennifer Crusie, Anne Stuart, Lani Diane Rich
Publisher: St. Martin's Paperbacks
Published: 2009
ISBN-13: 9780312944377
400 pages
Page 1:
Abby Richmond's ancient two-toned station wagon shuddered to a stop in front of the dust-covered windows of the Temple Street Coffeehouse, and the Newfoundland beside her sat up and barked
.
If you like stories with dogs and interesting men, you would like this novel; I sure did. Dogs and Goddesses is a fun read, full of smart dialogues and dogs that talk. At least you would understand dog-talk after taking the temple tonics offered by risen-again ancient goddess, Kammani Gula, as in the case of the three female protagonists in this story.

Abby Richmond, Daisy Harris and Shar Summer are three women who cross path with each other at a local dog obedience-training school. The dog trainer is the now-risen Mesopotamian goddess Kammani who has a plan to rule again like she did 4,000 years ago. And the three women are her very important priestesses from the original seven.

All three women have a pet dog although Daisy's Jack Russell Terrier (JRT), Bailey, is actually her mother's who apparently left the dog for her to babysit while she gets treatment for her sudden allergies. Bailey is hyper and at first rather annoying to Daisy. Slowly but surely, Daisy develops an affection for him once she understands the JRT. Wolfie the dachshund is Shar's and for a small dog, he is quite fierce. Abby's dog is a Newfoundland named Bowser and he is protective of her. I only know about this breed when I read the novel and Google-ed for the images. Newfoundland is a beautiful, furry breed.

I almost forgot to mention about the men. Noah works part-time at the temple where the dog obedience classes are held and there he meets Daisy. He is not exactly her type (no stable job, 401(k) and all that) but he is a musician (a guitarist—oh, yeah!) and very cute too. My favorite is the genius math professor, Christopher, who is a cross between Good Will Hunting and A Beautiful Mind. There is something about a supposedly crazy guy and mathematics that I like. Christopher and Abby are attracted to each other but they get off from a bad start; something to do with orders for cookies and him being rude. Last but not least, the most supernatural of all is Shar's love interest who is a god-king, Samu-la-el (Sam for short).

It is really a quite interesting and funny story. I was laughing out loud most of the time. The dialogues are witty. There are sexy bits throughout. I like the close friendship that is forming between the three women and how they become united in conquering the evil plan of Kammani. Even that is entertaining. The dogs' characteristics shone through in this novel. They are adorable and I love it when they bark talk.

Really, the three authors did a marvelous job in writing this book. I am happy to note that Publishers Weekly and Booklist both gave this novel starred reviews. The women, their dogs, and the men that enter their lives are all beautifully and funnily woven together. I am really glad I picked this up for my Romance Reading Challenge.