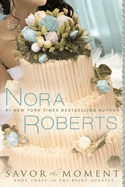 Savor the Moment
(Book Three in the Bride Quartet)
By
Nora Roberts
Book Excerpt
Publisher: Berkley
Published: 2010 (Roughcut Edition)
ISBN-13: 9780425233689
352 pages

First paragraph (Chapter One): Alone, with Norah Jones whispering through the iPod, Laurel transformed a panel of fondant into a swatch of elegant edible lace. She didn't hear the music, used it for to fill the air than as entertainment while she painstakingly pieced the completed panel onto the second tier of four.

From the paragraph above, you would be able to deduce that Laurel is a wedding baker and she is darn good at it. Together with her best friends since childhood—Parker, Emma, and Mac—they set up Vows, a wedding planning company.

So once again, we meet childhood friends Parker, Emma, Laurel, and Mac in another wonderful love story. To recap, the first book is about Mackensie "Mac" Elliot who is a photographer and her love interest, Carter Maguire Ph.D., an English professor. The second book takes us into the world of Emmaline "Emma" Grant who is a florist and Jack Cooke, an architect and family friend for ages. In this third one, we experienced the love and tension between Laurel McBane the wedding baker and Delaney Brown the Ivy League lawyer (also Parker's older brother).
I often wondered how is it like to have a crush on a person whom you have known all your life from childhood. In this case, Laurel has had a mega crush on Parker's older brother, Delaney Brown (or, Del for short) since the longest time. Del takes care of her and her friends like a brother and she thinks that he will never view her in a different light. She also thinks he is way out of her reach being a very prominent lawyer and all that. What she does not know, though, is that Del also has feelings for her, but both are just too "stubborn" to acknowledge it. Until one day.

There is a lot of tension and frustration in Laurel who really likes Del. One day she just snaps and that one kiss planted on Del's mouth changes everything. The story flies off to a great start between the two with continuous "fiery" dialogues and wittiness to boot. I can only hope that this would happen in my life. I so crave for such clever exchanges between two persons. Meanwhile, Mac's mother continue to wreck havoc in people's relationship and Laurel is not spared.


[...] so you were right about that. I didn't see. I should have. But you didn't see either. You didn't see how much I love you, how much I want you, how much I need you. I'll buy those two dogs if I want pets, and I already have a sister. [...]

Oh yeah, we really do not know a lot of things when it comes to love. It takes a few "knocks" and then some. I love how both of them slowly discover things about themselves that lead to THE realization.
What I am going to say next will not be a surprise to you. Tears welled up in my eyes. I love what Del did in professing his love for Laurel. The gesture is so beautiful and meaningful. It is easily my favorite of the three books although baking is hardly my cup of coffee (hah!). All relationships are different and it is apparent in this quartet.
Again, at the risk of sounding like a broken record, the characterization is great and I love the dialogues. I think it can be read as a standalone, but I think it is the smart thing to do if you start first with
Vision in White
. Friendship and love are the themes of this series. Each book gets better in the quartet and I am looking forward to a great ending with Parker Brown and Malcomb Kavanaugh wrapping things up nicely.
Note: Savor the Moment is a joint-reading with Julia. I'm not sure if we'll be reading the final book, Happy Ever After, together but I certainly would like to do so if she wishes to do a joint-reading with me again. Happy Ever After will be released on November 2.

Related Posts: