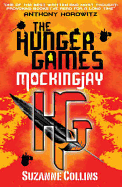 Mockingjay
(The Hunger Games, Book 3)
By
Suzanne Collins
Publisher:
Scholastic
Published: 2010
ISBN-13: 9781407109374
320 pages
Synopsis:
Against all odds, Katniss Everdeen has survived the Hunger Games twice. But now that she's made it out of the bloody arena alive, she's still not safe. The Capitol is angry. The Capitol wants revenge. Who do they think should pay for the unrest? Katniss. And what's worse, President Snow has made it clear that no one else is safe either. Not Katniss's family, not her friends, not the people of District 12.

Page 279:
The arena messed us all up pretty good, don't you think?
I loved EVERYTHING about this series, and particularly,
Mockingjay
, the last book of the trilogy. Brilliant plot, lots of action, plenty of suspense. The pages turned by itself (when I read the book version) and I went crazy on the "Next" button on my Kindle (I bought this edition first while waiting for the book to arrive).
Terrible, brutal truths are revealed in this installment. It is shocking to learn of the things the Capitol did or will do to the victors of the Hunger Games (children in fight-to-the-death reality show). It turns out that Katniss and Peeta are not the only ones plagued with problems. You will learn more as the story unfolds.
What does it take to break Katniss Everdeen? Katniss asks that questions herself too. What is President Snow up to? What does he want to achieve? There is also something that he has said that got Katniss thinking. Sacrifices are made by the people who fight for the same cause, who are supporting the Mockingjay. There are very tough decisions to be made. What would YOU do when you are faced with problems so deep, there seem to be no way out?
The verdict? This is a not-to-be-missed series. Friendship, love, sacrifices are the ingredients that make this trilogy so good. I like how the book ended. The content can be deemed violent if young children were to read the series (parents are advised to read alongside with them should their young children also embark on the Hunger Games journey), but for older readers, I think it is acceptable.
Related Posts: