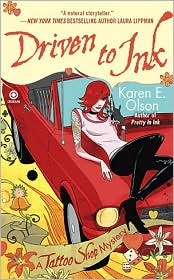 Driven Ink
(Tattoo Shop Series #3)
By
Karen E. Olson
Publisher: Obsidian
Published: September 2010
ISBN-13: 9780451231574
320 pages
Read the first two chapters
Synopsis from the back-cover:
Las Vegas is a rocking place where impersonators of the legendary Rat Pack--Frank Sinatra, Dean Martin, and Sammy Davis Jr.--are alive and well and performing nightly at clubs all over town. Except they're not all. Alive, that is.


When Brett lends her car to Sylvia Coleman and Bernie Applebaum for a drive-through wedding, she's not expecting to get it back with a dead body in the trunk--much less one who looks like Dean Martin and sports a clip cord from a tattoo machine around his neck.


As for the newlyweds, they vanish before they can start their honeymoon, so Brett and Jeff, Sylvia's son, go undercover as bride and groom to sniff out the rat who seems to be targeting the impersonators. Whatever's going on, it's not
amore...

First sentence:
When Sylvia and Bernie came back from That's Amore Drive-Through Wedding Chapel with my car, it would've been nice if they'd taken the body out of the trunk
.
Before I go on with my review, please let me say that this series can be read as a standalone. You do not have to read them in sequence, but if you do read them in that manner, you would most definitely benefit from knowing who's who to get a feel of who Brett Kavanaugh and her friends are. I have been following the tattoo artist's adventures from the start and have grown to like her very much.
It is interesting how every time I received a book from Karen, I got to read them during trips. For the second book of the Tattoo Shop Mystery series, I got it just in time for my holiday and finished it on the beautiful
Perhentian island
. For this latest installment, I got it in time for my move to Penang (I am loving my new job!) and I finished it on the way to Penang in the car. The book is scheduled to be released on September 7, and I got to read it way ahead of time. Thank you, Karen!
In
Driven to Ink
, readers are invited into the Las Vegas
Rat Pack
impersonator scene. So, what is so interesting about this? When Brett finds a dead body in the trunk of her car, that is. The Dean Martin-lookalike dead guy has a tattoo machine clip cord around his neck. The car is loaned to Sylvia Coleman (Jeff Coleman's mother and possibly Brett's love interest) and her bridegroom. Once again, Brett lands herself in some sort of deep you-know-what.
Brett, as usual, has to get herself involved (unofficially) in the investigation, but this time she has the help of Jeff Coleman. Brett and Jeff are tattoo shop competitors. They do not have the best of relationship to start with, but it is getting better. I want to see something (romantic) happening between them! In this story, they have to pretend to be married just so they have a valid reason to go to the chapel where the dead guy worked without rousing any suspicions.
Things, of course, get more interesting and complicated. The chapters are short and punchy. They give a suspenseful feel to the story. It is also funny. In my past reviews, I have mentioned that Brett has a sense of humor. The four-hour drive in the car to Penang was a breeze and when I looked up, my sister had driven my mom and me safely to the state.
The verdict? I enjoyed this entertaining read very much. Karen has finished writing her fourth book
Ink Flamingos
and it is one that I definitely want to get my hands on, too. So, will some serious sparks fly between Brett and Jeff in the latest book? I sure hope so. Here is another exciting piece of news, Karen is also working on a young adult novel.
More about Karen E. Olson and her books on the
author's website
and she blogs at the
First Offenders
.
P/S: I am very excited to see my name in the "Acknowledgments" page of
Driven to Ink
alongside other bloggers such as Wendy, Christina, and Iliana. This came as a total surprise when John Valeri of
Hartford Books Examiner
highlighted it to me. Thank you, Karen! Thank you, John!